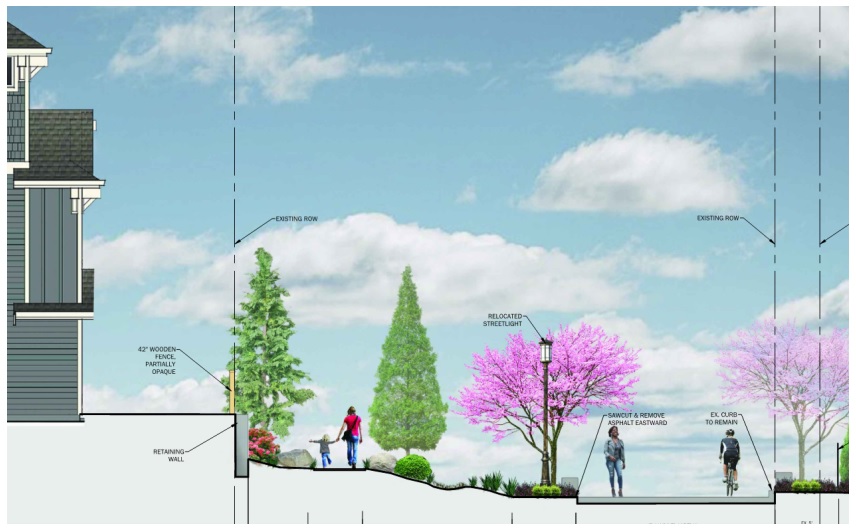 As developer Polygon Homes NW proceeds with its applications to build the Westridge residential community in Issaquah Highlands, a portion of High Street west of 9th Ave NE got one step closer to becoming a park.
On Tuesday, April 17 the Urban Village Development Commission (UVDC) voted in favor of the developer converting a portion of High Street into a linear park and pedestrian and bike path, designed around views of the valley and Lake Sammamish. A linear park is one that is longer than it is wide, in this case, following a path.
This decision came after two public hearing sessions, beginning in March, of Polygon's plat application for Westridge's 72 single-family home sites. The UVDC's recommendation now goes to the City Council for their review.
The Westridge single family development borders High Street and is north of the Westridge townhomes currently under construction. To the east is property owned by Shelter Holdings along 9th Ave NE.
The UVDC began the public hearing and review of this development at their March 20 meeting. Many members of the West Highlands Park spoke at the hearing.
Converting a portion of High Street to a park was deemed the best option for this corridor as it would relate to the new homes in Westridge. (The other options were found non-conforming to the Issaquah Highlands Development Agreement.) Furthermore, UVDC Chairman and Issaquah Highlands resident, Geoff Walker explained the new park "could be a community asset."
And to assure the park is well-planned, the Commission jointly crafted additional wording in their recommendation to require the park design return to the UVDC for community input.
Another topic of discussion was the continuation of Park Drive NE as it travels west of 9th Ave NE and into this development. The UVDC agreed to recommend that Park Drive either become a street with segmented pedestrian areas or to not become a street at all, but rather a pedestrian trail, to be determined at a future date. Pedestrian safety was the primary concern.
For more information about topics within this application that drew the Commissioners' attention please see Proposal Converting Road into a Park
When the UVDC reviews land use applications, they evaluate the application's "conformance with policies, goals and objectives contained in the City of Issaquah's Comprehensive Plan, Grand Ridge Planning Goals" (from the City of Issaquah website) and other elements in the Issaquah Highlands Development Agreement. For this application, the UVDC was tasked to render a recommendation to the City Council.