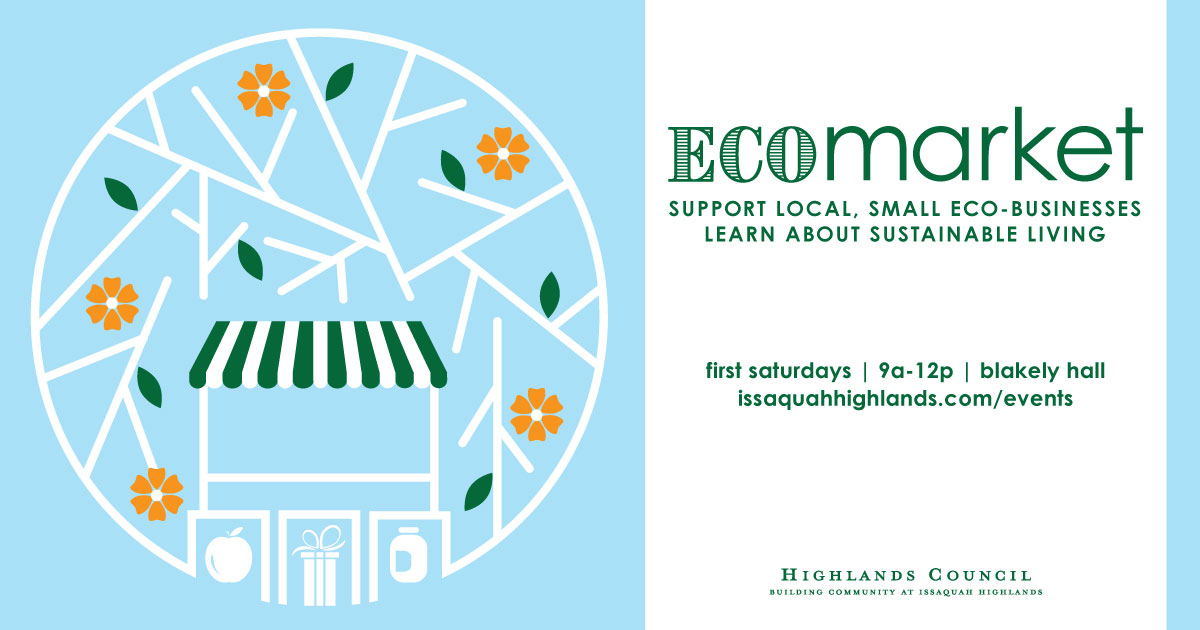 I grew up in France and moved to Issaquah in 2008. One of the things I miss most about France – except my family and friends, of course – is the markets. In France, markets are year-round events, usually happening once or twice a week in every community. You can find fresh produce, butcher and fisherman booths, shoes, flowers, bags, hats, artwork, and more. Vendors are loud; they sing about their products, invite you to look at their goods, ask about your day, and open doors to negotiation. Markets are full of life, rain or shine.
In support of our community's Living Green™ initiatives, and reminiscent of my time spent in French markets, I had an idea to hold a monthly market in Issaquah Highlands to promote local businesses and make sustainable living more accessible. Imagine walking to the market each month, bringing your own bags, and shopping seasonal produce, home-essential refills, flowers, and handmade gifts from local vendors while learning something about sustainable living.
I'm excited to help launch the new monthly Issaquah Highlands Eco-Market this weekend in a healthy, safe, and convenient place – Blakely Hall*. Each month, come and meet eco-friendly local vendors, shop local, connect with neighbors, drop off hard-to-recycle items (changes monthly), and learn something new about living green at the "Green Stuff" booth.
Our first Issaquah Highlands Eco-Market is Saturday, November 3, 9 a.m.- noon at Blakely Hall. The first 20 visitors to the November Eco-Market will receive a reusable shopping bag and a eucalyptus hand sanitizer in a special refillable bottle! (One per household). This month's vendors include:
Farm Among Us – Market garden farm growing nutritious local produce using only inputs provided by nature. It all starts with the soil. Healthy soil, healthy plants, healthy you.
Keepers Collective – Bee beautiful with our all-natural self-care products, straight from the hive!
L'Experience Paris – Enjoy the French experience through food.
Out of the Box Eco-Store – A refillery and low-waste living store offering refillable and reusable household and personal care solutions.
Ridwell – Making it easy to sustainably reuse and recycle your stuff. Bring your leftover Halloween candy to the Eco-Market, and Ridwell will make sure it gets to people who can use it!
Sunny Littles – Earth-friendly goods for kids and families.
TrashMob.eco – Cleaning up Planet Earth, one bucket of litter at a time. Meet up. Clean up. Feel good!
Two Sisters Coffee – Artisan, organic coffee roasting company.
Wendy Simply Cooks – Meals prepared fresh daily with fresh ingredients.
Workshop – Hand-made gifts, including watercolors, pillows, and tea towels.
WriteSpark Press – Author and publisher of the book Eastside Seattle Walks, which offers 20+ easy and family-friendly walking routes to discover nature, history, and public art in each of Seattle's Eastside suburbs.
Check our event calendar for the most updated event details.
Aline Bloch is the owner of Aline's Cardboard and Out of the Box Eco-Store and a Central Park resident. 
* A Note from Highlands Council: Per the King County Vaccine Verification Order, verified vaccination status or proof of negative PCR COVID test in the previous 72 hours is required to enter Blakely Hall and the Eco-Market. For more information, please see this post from Public Health – Seattle & King County.