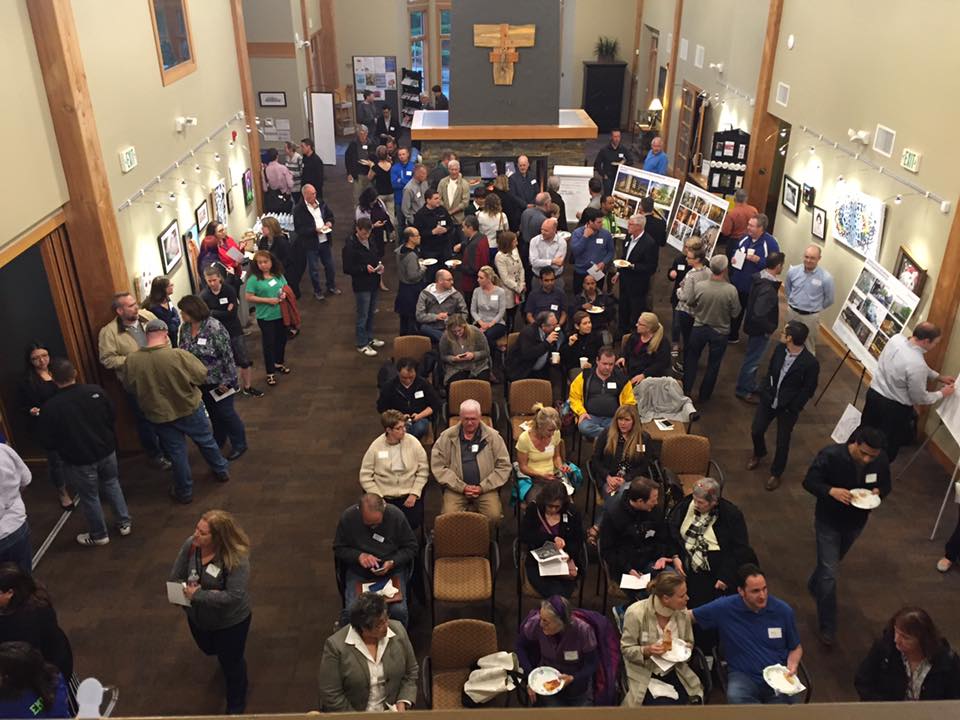 Developer Shelter Holdings Presents Plan for Former Microsoft Property – "The High Street Collection"
Historic Event at Blakely Hall
Shelter Holdings executives and their entourage of experts drew a big crowd last evening at Blakely Hall as they presented their plans for what they call "The High Street Collection", development for the land they purchased from Microsoft along 9th Avenue NE and along Discovery Drive. There was a robust exchange of ideas.
The developer shared a recommendation, to build 2,500 residential units in a mixed use configuration with retail and some medical offices. Attendees balked at the number of residential units and hoped for more commercial and retail development. All the same, attendees participated in the exercise of writing down their wish list for any future development, including school siting, large public plaza, publically accessible view areas, traffic mitigation, health club, swimming pool, and many other ideas.
The developer wishes to enter into a new development agreement with the City of Issaquah to customize the long term development of this 21.5 acre parcel. Development agreements, as described in Washington State law below (also see City of Issaquah Urban Village Code), allow a developer to negotiate an exchange between development interests and accommodations provided for the public benefit. That's what this meeting provided: An opportunity for the developer to ascertain what the public values most.
"These are very early days in the process. A lot can and will change in the coming months/years. A historic night for our community," observed Christy Garrard, Executive Director for Highlands Council, the event's co-host.
Next steps
In the preliminary stages of a new development land owners research the opportunities for development and begin informal talks with the City. Last night the developer shared their research findings with the community, Issaquah Highlands and greater Issaquah's leaders and influencers. The developer gleaned opinions and local knowledge from those who attended.
The event benefited from the quite visible attendance of Issaquah Highlands' Highlands Youth (HY) Board members. They came donning their branded t-shirts showing that the next generation of homeowners is highly interested in the future of their neighborhood. They brought their own research and ideas. Gary Young of Shelter Holdings showed keen interest in their contributions, taking notes from HY Co-President Sean Davidson's ideas.
Shelter Holdings now has a treasure trove of ideas and suggestions from the Issaquah community to digest and process. It is expected that this input will influence their proposal, altering it in some way. They will return to the City with another informal proposal. They expressed a desire to hold another meeting at Blakely Hall to share their progress with the community.
Many Moving Parts
Issaquah Highlands was born with a 20-year development agreement signed on June 18, 1996. Though the actual "expiration" does not occur until 2017, talks are under way about how future development in Issaquah Highlands would be regulated. Add to that a revised Master Site Plan in the works for Central Park; the passage of the Issaquah Schools District capital facilities bond, supporting the building of new campuses in our area; and the still unknown future location of Bellevue College; there are several big pieces of the Issaquah Highlands puzzle yet to be laid in place. Stay tuned and stay engaged. Issaquah is a community that cares, a quality that was very apparent last night at Blakely Hall.
*For more information about growth and expected new construction in Issaquah Highlands, see February 2016 Connections: Still Growing
** As a point of comparison, Discovery Heights and Discovery West apartments on both sides of Highlands Drive at Discovery Drive have 570 residential units, combined.
Washington State Law re: Development Agreements
RCW 36.70B.170
Development agreements—Authorized.
(1) A local government may enter into a development agreement with a person having ownership or control of real property within its jurisdiction. A city may enter into a development agreement for real property outside its boundaries as part of a proposed annexation or a service agreement. A development agreement must set forth the development standards and other provisions that shall apply to and govern and vest the development, use, and mitigation of the development of the real property for the duration specified in the agreement. A development agreement shall be consistent with applicable development regulations adopted by a local government planning under chapter 36.70ARCW.
(2) RCW 36.70B.170 through 36.70B.190 and section 501, chapter 347, Laws of 1995 do not affect the validity of a contract rezone, concomitant agreement, annexation agreement, or other agreement in existence on July 23, 1995, or adopted under separate authority, that includes some or all of the development standards provided in subsection (3) of this section.
(3) For the purposes of this section, "development standards" includes, but is not limited to:
(a) Project elements such as permitted uses, residential densities, and nonresidential densities and intensities or building sizes;
(b) The amount and payment of impact fees imposed or agreed to in accordance with any applicable provisions of state law, any reimbursement provisions, other financial contributions by the property owner, inspection fees, or dedications;
(c) Mitigation measures, development conditions, and other requirements under chapter 43.21C RCW;
(d) Design standards such as maximum heights, setbacks, drainage and water quality requirements, landscaping, and other development features;
(e) Affordable housing;
(f) Parks and open space preservation;
(g) Phasing…<see more>
City of Issaquah Code for Urban Villages
18.06.120 Urban Village District – UV.
Purpose: The Urban Village (UV) District is established to encourage innovative uses, sites and comprehensive planning of large (fifteen (15) acres or more) land parcels. Master planning and development of larger parcels provides the opportunity for reasonably priced housing, enhanced public services and concurrency, infrastructure solutions and improvements, and allows creative land development through clustering, permanent preservation of wetlands and other natural areas, integration of recreational facilities and phasing of infrastructure.
Designation of Urban Village and Development Agreement Approval: The City Council may adopt outright UV Zoning District (concurrent with approval of a Development Agreement meeting the requirements of subsection B of this section or designate potential UV areas where a Development Agreement is to be reviewed and adopted subsequently. The UV District may be adopted as part of the City's Comprehensive Plan or as an amendment thereto, or as the zoning to be applied upon annexation of unincorporated land, or through individual reclassification. The Development Agreement for a particular UV parcel may be adopted concurrently with the UV District. The UV District may also be applied as an "overlay" zone district over another district.
Development Agreement Contents: Each Development Agreement approved by the City Council shall include the following components:

Project description and conceptual site plan;
Open space and recreation lands and facilities, including preservation of sensitive areas and buffers;
Residential uses and densities including a range or maximum of housing types, lot sizes and single or multifamily;
Commercial uses and intensities, including a range or maximum square footages permitted for retail, business park or other approved commercial uses;
Site design, bulk and/or building standards, including criteria for flexibility to encourage innovative design, preservation of sensitive areas and reasonably priced housing;
Capital facilities plan showing infrastructure such as road improvements, transportation management plans, utilities, schools, police and fire and any other public services or facilities.

Development Agreement Approval Procedures: The City Council may approve Development Agreements through one of the following procedures:

Concurrent with Annexation Approval: The City may approve a Development Agreement incorporating the elements of subsection B of this section as part of its annexation of property to the City;
Concurrent with City Comprehensive Plan: The City may approve a Development Agreement incorporating the elements of subsection B of this section as part of adoption or an amendment of the City's Comprehensive Plan, and any proposed Development Agreement shall be reviewed concurrent with and using the same procedures as followed for City Comprehensive Plan adoption or amendment;
Individually Submitted Request: A Development Agreement application incorporating the elements stated in subsection B of this section may be submitted by a property owner on a form and with any additional related information as determined by the Planning Director/Manager. After staff review and SEPA compliance, the Development Agreement application shall be reviewed by the Planning Policy Commission, or a Development Commission or both as determined by the Planning Director/Manager based on the Development Agreement exhibits set forth in subsection B of this section, which shall make a recommendation to the City Council for final approval, approval with additional conditions, or denial;
Recorded Development Agreement: Upon City Council approval of a Development Agreement under one of the procedures set forth in subsection C of this section, the City and property owner shall execute and record the Development Agreement (or a memorandum thereof) with the King County Real Property Records to run with the land and bind and govern development of the property.

Subsequent Plat and Permitting: Upon City Council approval of a Development Agreement, the property's development shall be governed by the substantive provisions of the approved Development Agreement and implemented through subdivisions, short plats, binding site plans or other applicable permits in accordance with the procedures specified in the Development Agreement, or standard City procedures if none are specified in the Development Agreement. Any conditions or standards of approval for any subdivision, short plat, binding site plan or other permit or approval for the property shall utilize and incorporate the development standards set forth in the approved Development Agreement.
Development Commission: The City Council may establish by ordinance a special Development Commission, in lieu of other specified City boards and commissions, to review and approve all matters for permits or approvals for all projects within a UV District. Proposals for the membership, jurisdiction and procedures of a special development commission may by set forth in a Development Agreement. (Ord. 2108 § 6.3.6, 1996).