Highlands Council is excited to present a new addition to our media, "Kimberly's Cultural Kitchen," a video series hosted by Dahlia Park resident Kimberly Kapustein that celebrates our community's diversity and the cultural connections we have through food.
"This is a cooking blog that I hope offers my relationships in learning more about food and giving a voice to the ethnic and cultural diversity in our community," Kimberly said.
In honor of Black History Month, Kimberly and her friends — Magnolia Park resident Lynne Varner; and former Issaquah Highlands resident Kandace Barton — discuss how heritage has shaped each of their family's New Year's traditions related to cooking, food, and celebrating.
"I think we all use food to talk about our past," Kimberly said.
The group of friends also share their own modern twists on these food-related traditions, as influenced by other cultures, the Pacific Northwest, and contemporary cooking and cuisine trends. Find two of Kimberly's favorite fusion recipes below: Collard Eggrolls and Sweet Potato Challah.
You'll also find Kandace's recipe for Hot Water Corn Bread.
— Vicki Grunewald, Highlands Council Media Editor
Collard Egg Rolls
I love Southern food and Chinese food, so why not combine them? The mash-up of these two "soulful" foods makes everything right in the world.
Ingredients
2 strips nitrate-free bacon, roughly chopped (or pulled pork or smoked turkey wing meat)
1/2 medium onion
1 16 oz. frozen collards
8 oz. chicken stock
1 teaspoon granulated garlic
1 teaspoon crushed red pepper flakes
1 teaspoon onion powder
1 teaspoon kosher salt
Oil (I use safflower oil, do not use olive oil)
10 egg roll wrappers
Directions
In a cast iron pot, fry bacon until crispy, then remove from pot. Add onion and cook until translucent. Add greens, stock, garlic, red pepper flakes, and onion powder and bring to a boil. Lower heat and simmer for about an hour until tender. Let cool, drain, then add salt and bacon. Taste the greens for seasoning and salt adjustments.
In a 12-inch frying pan, add enough oil to fill the pan halfway. Use a high-heat oil; I use safflower oil, do not use olive oil. Heat oil to about 315-325°. Roll your egg rolls and fry, turning constantly until golden brown, about 12 minutes. Makes 10 egg rolls.
Sweet Potato Challah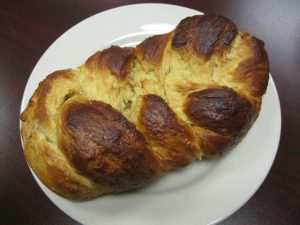 Ingredients
1¼ cups warm water (110°F/45°C)
1½ tablespoons active dry yeast
½ cup honey
2 tablespoons unsalted butter, melted
1 cup sweet potatoes, cooked and mashed
1 whole egg plus 2 egg yolks
2 teaspoons salt
4-6 cups unbleached all-purpose flour
Egg wash (1 egg white plus 1 tablespoon water, beaten)
Directions
Prepare the Dough
In the bowl of a stand mixer, dissolve the yeast in warm water for 3-4 minutes.
When the yeast is bubbly and activated, mix in eggs, honey, salt, melted butter, and the mashed sweet potato using the paddle attachment until well-blended. Remove the paddle attachment and switch to the dough hook.
Add four cups of flour to the mixing bowl and mix at low speed until the dough starts to come together. Let the mixer knead the dough for 5-7 minutes, gradually adding more flour, about a half cup at a time, until the dough is not too sticky and it comes together into a ball.
Turn the dough out onto a floured surface and do a few final kneads, adding a little more flour (in tablespoon increments) if necessary. The dough should be soft and supple, not too sticky, and can easily take the shape of a ball.
Place the dough in a bowl lightly coated with canola oil, giving it a turn so that the dough has a very light coat of oil. Lightly cover with a kitchen towel and place the dough in a warm spot, free from any drafts. Let the dough rise for about 1.5 to 2 hours until the dough has doubled in size.
When the dough has ballooned, punch it down, turn it over, and let it chill in the refrigerator overnight. While you can use the dough right away, proofing it overnight in the refrigerator gives it a much deeper flavor. The dough will be ready to use the following morning, or even several days later if you wish.
Bake the Dough
On the day you are ready to bake, remove the dough (or a portion of the dough) from the refrigerator and allow to come to room temperature. If you wish, you can do a simple three-strand braid. To create a six-strand braid, divide the dough into three pieces, then divide each piece into six more pieces for a total of 18 small rounds of dough. You should have enough dough to make three challah loaves.
To braid the dough, pinch six strands together at the top. Take the right strand and cross it all the way over the left, and take the left strand and cross it all the way over to the right. Take the strand that is now farthest to the left and place it between the four strands down the center. Repeat this pattern until you reach the end of the loaf, keeping the braid as tight as possible. Pinch the end under and fluff the loaf if necessary. Repeat with the remaining dough. Let the loaves rest for an hour at room temperature to rise one last time.
Preheat oven to 350° with the rack placed on the lowest setting.
Lightly butter a 12-inch baking tray and place one sweet potato challah on it. Brush the loaf with egg wash. Bake for 20-25 minutes, or until the bread is golden; crisp on the outside and sounds hollow when you tap it. Bake the remaining loaves in batches.
Let the loaves cool for at least 20 minutes before slicing. Enjoy warm with soft butter.
Recipes and photos by Kimberly Kapustein. 
Kimberly Kapustein is the president of the Highlands Council Board of Trustees and a Dahlia Park resident.