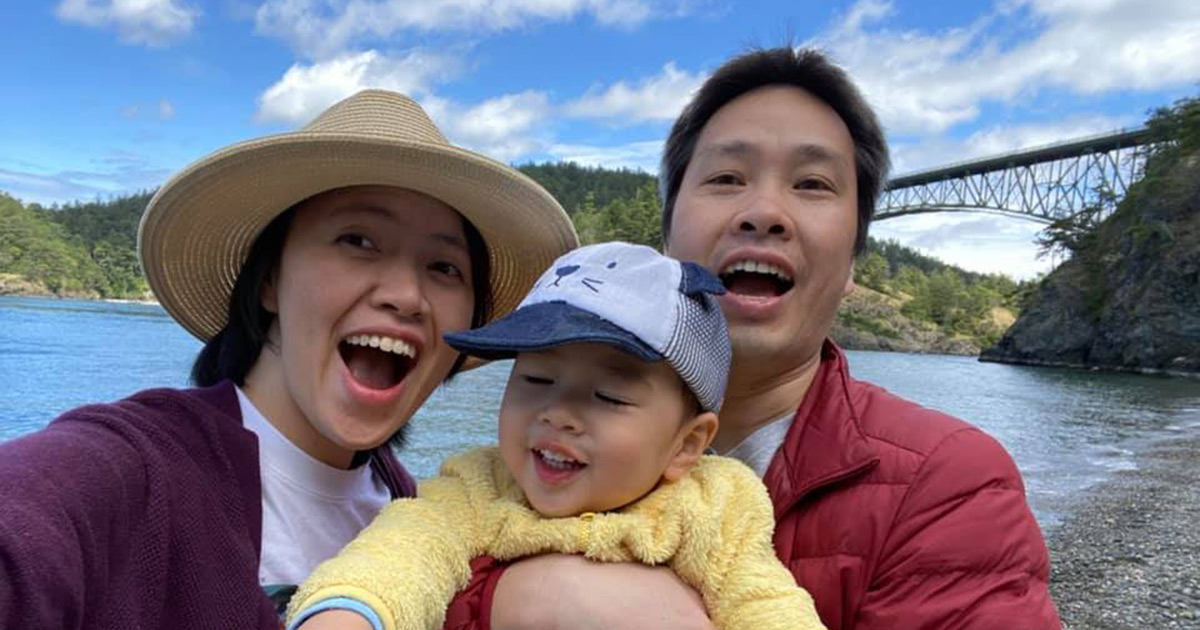 After moving to the United States from Vietnam, my family chose to settle in Issaquah Highlands in October 2019. The transition was overwhelming. We moved from a sunny, tropical country to the rainy season in Seattle; from a crowded street of a Southeast Asian city to a neat, quiet town; from a big family and a network of close friends to a strange place where I knew only two people.
When I got to Issaquah Highlands, my biggest challenge was feeling isolated. It can feel discouraging when you can't find a friend to talk to and when you see hardly any neighbors outside in the cold and rainy winter. For months, my burning question was: "How can I connect with others in the community, especially as a non-native English speaker?"
Then a local paper called "Connections" arrived in my mailbox. There was plenty of information about activities inside. I selected one group to join, a community group that helps members improve their public speaking and communication skills.
I still remember the Thursday morning in February when I had to force myself out of my comfy bed at 7 a.m. to rush to Swedish Hospital to attend my first meeting of this community group with a strange name, "Toastmasters." I thought, "How can they make a toast before breakfast?"
Even though I arrived late (and embarrassed), I soon realized this was the opportunity I had been looking for. At Issaquah Highlands Toastmasters (IHTM), people talked – some beautifully and smoothly – while others still struggled like me. Regardless, members cheered each other on, provided constructive feedback, and everyone had fun. After the meeting, I registered as a member for a simple reason: I love to meet and talk with people.
Toastmasters offers much more than what I first imagined. It is a structured international organization that helps its members improve not only their public speaking skills, but also other interpersonal and leadership skills. I can apply these skills to every aspect of my life, from communicating with people from different cultures and engaging different audiences, to developing meaningful relationships. I joined the group six months ago and am surprised by how much I have improved my communication skills in this second language. I feel more confident at work and in other areas of life.
What I treasure most about IHTM is the people. Coming from different places to the beautiful Issaquah Highlands, each member has an inspiring story. Members keep surprising me with their speeches, knowledge, and personal experiences. Sometimes they just entertain me with their charms. I long for each Thursday morning to fill my day with positive energy.
I have become a strong advocate for IHTM by serving as an officer of membership, helping to connect with neighbors who are looking for the same opportunity as I was ten months ago, especially in this "new normal" time when in-person connections are limited. We "Zoom in" every Thursday morning (meeting virtually through Zoom), and you can start connecting with us from the kitchen, basement, or living room of your house. Please "be our guest and I will be happy to welcome you, just as this group welcomed me.
For more information, please visit our website.
Toasting your Good Health!
Photo: Thu, her son, Leo (2), and Thu's husband, Ken at Deception Pass.
Hear from other members of Issaquah Highlands Toastmasters:
Toastmasters played a vital role in improving my communication and leadership skills. Issaquah Highlands Toastmasters is a very warm and welcoming club for all, and a very safe place to practice your public speaking.

Kumarresen T. Kannadiapalayam

Resident, NE Ivy Way
My Issaquah Highlands Toastmasters club experience began as an exploration after many years as a stay-at-home mom. What skills could I develop? What confidence could I grow? The club atmosphere is unfailingly positive; constructive feedback abounds; improvement and growth are celebrated! As a result, I've been stretched – and I'm so very glad I joined.

Janell Murphy

Resident, 29th Pl NE
Not only did my confidence grow in front of such a supportive audience, but I was challenged to become an officer. The club is vibrant and focused on improvement, now temporarily on a video communications platform!

Dawn Noland

Resident, NE Kenilworth Ln
For as long as I could remember, I had always hated doing presentations. I joined Toastmasters to get over this fear and continuously practice my public speaking. Issaquah Highlands Toastmasters club has been a very welcoming and encouraging group of members that gives nothing but positivity for improving your speaking skills.

Kaila Fung

Resident, NE Laurel Wood Ln
I joined Toastmasters to improve my public speaking and networking skills that are essential to grow in the current phase of my career. Toastmasters meetings provide me with a safe haven to practice my speaking skills and help me improve by receiving constructive feedback from a diverse community of leaders.

Yogesh Aggarwal

Resident, 11th Ln NE
I had a stroke and live the "Independence Day" film quote: "We will not vanish without a fight," every day. I practice communication skills, presentation, and listening at Issaquah Highlands Toastmasters club meetings.

Mike Tran

Resident, 28th Pl NE