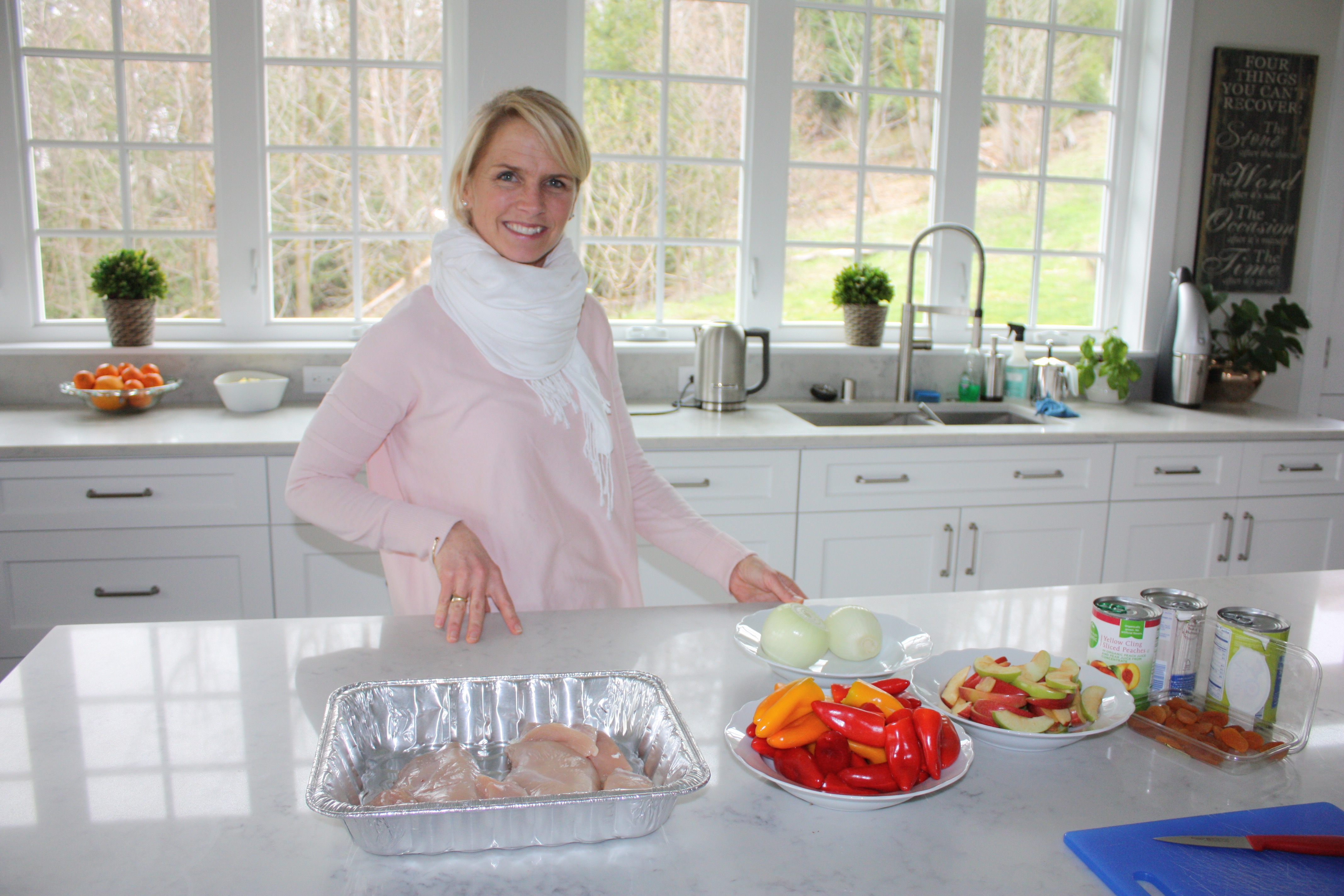 Culture Through Cuisine – South Africa
By Kimberly Collette, Central Park

Nathalie Isensee stands in her bright kitchen during a sunbreak putting together one of her favorite South African dishes, Ukubaba Inkukhu. It is a tangy chicken dish with peppers, apples, onions, peaches, apricots and spices. It is a mixture of sweet, tangy and savory. A collection of surprising ingredients that may not seem to go together, but after its turn in the oven the flavors meld into a delicious and easy weeknight meal.
Nathalie embodies a mixture of cultures almost as varied as the ingredients she assembles. Born and raised in South Africa to German parents, Nathalie worked in Hotel Management in South Africa for a while before moving to Germany to work in the travel industry.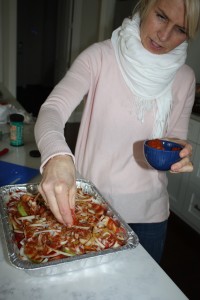 Nathalie worked in catering as well as weddings and special functions. She spent a year in South America. After Nathalie and her husband Michael were married they wanted to move abroad. Choosing between Australia and the Pacific Northwest the Isensees found themselves in the Issaquah Highlands in 2003. "We were here even before the Grand Ridge [Elementary] was built."
Thirteen years and three homes later the Isensees have watched the Highlands grow as well as their family. They have three children, Jacqueline, age 14, Niclas, age 12, and Christian, age 7.
Nathalie layers the chicken, paprika, a special red curry she gets from South Africa, salt and pepper, onions, apples and peppers. She finishes it off with the fruit and pours a bit of the juices from the canned fruit and some chicken broth over the top. The dish goes into the oven covered with aluminum foil.
As a child in South Africa, Nathalie was always helping her mother in the kitchen. "We kind of ate a little of everything… German food, a little South African, Greek and Portuguese."
South African food is spicy. They BBQ a lot, or Braai as they say in South Africa. There is a lot of meats and sausages and corn and potatoes. South African dishes are often stews and one pot meals.
Nathalie cooks rice on the stove as the Ukubaba Inkukhu finishes uncovered in the oven. The traditional South African way serves it over mielie pup which is a corn meal mixture similar to polenta. Nathalie has yet to find the mielie pup in any local stores so she serves it over rice.
The Ukubaba Inkukhu comes out of the oven hot and bubbly. The layers have melted together and the sugars have browned on top. Nathalie dishes a serving over the hot rice. And then she adds the toppings. Choosing from diced pineapple, cucumber, sweet red peppers, shredded coconut, cashews and peanuts and topped with a South African chutney you can buy at World Market. She adds a little bit of everything.
Ukubaba Inkukhu is a delightful unexpected mixture of flavors, textures and tastes. The sweetness of the fruits married with the spice of the curry and savor of the chicken is awakened further with the brightness of the additional toppings. Each delicious bite is a little sweet and a little savory. It is soft with a bit of crunch from the fresh toppings. It is as varied as the woman who made it standing in her bright kitchen overlooking the Highlands on a sunny afternoon.


Ukubaba Inkukhu Recipe 
INGREDIENTS
4 large Chicken breast
2 onions (sliced)
2 Granny Smith Apples (sliced)
2 Gala Apples (sliced)
2 Peppers (any color/sliced)
2 (15 oz) cans of sliced peaches
2 (15 oz) cans of sliced apricots
SPICES
Salt and Pepper
1 tsp Curry (red and yellow)
1 tsp Paprika
1 cube of Chicken broth
DIRECTIONS
Place Chicken breast in a deep pan. Season with spices. Top with sliced apples, peppers & onions. Top with sliced peaches and apricots add juice too. Season the top once again. Cover with foil and bake at 350F for 1 ½ hours. Remove foil and bake for another ½ hour.
Serve with white or brown rice.
TOPPINGS:
Cubed cucumbers, cubed peppers, cubed pineapple, cubed apples, sliced bananas, chutney, shaved coconut, cashew nuts and peanuts.