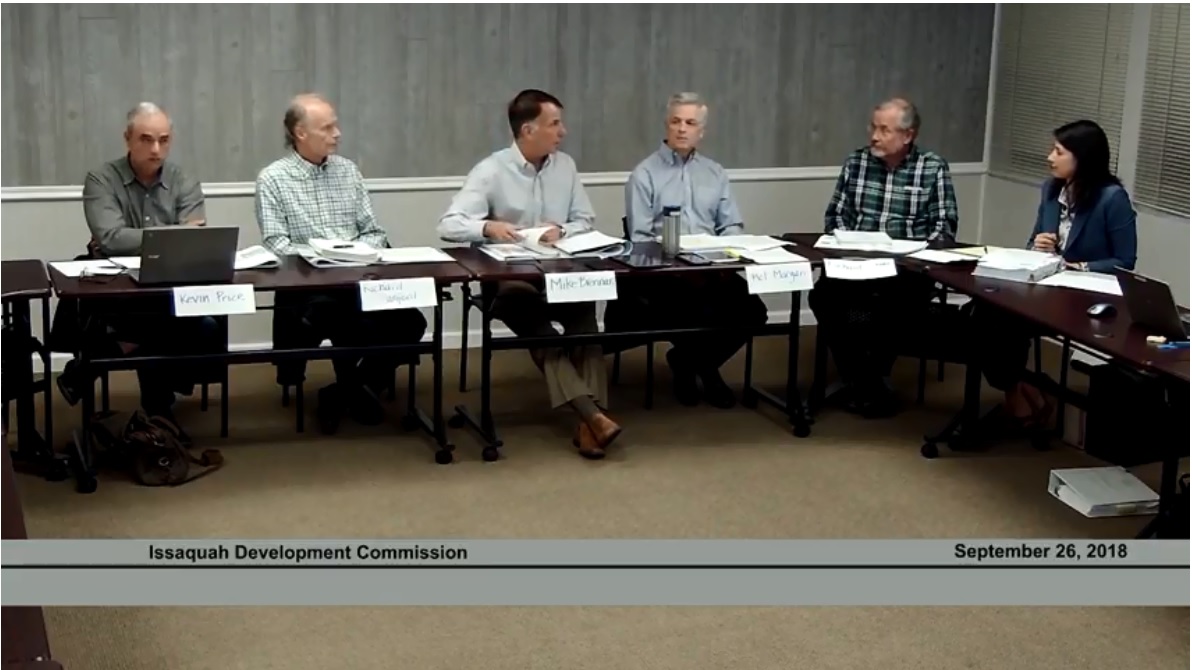 The City of Issaquah Development Commission held a Special Meeting on Wednesday, September 26, 2018 at 7pm at City Hall NW regarding future development in Issaquah Highlands. It was a "Special" Meeting (not a regularly scheduled meeting) with three public hearings on the agenda, one for each of three development permits.
The permits involve the future of the undeveloped land along 9th Ave NE and on the north side of Discovery Drive. It is owned by Issaquah Highlands Investment Fund-Commercial, LLC (IHIF-C), better known to the community as Shelter Holdings. IHIF-C has applied for three development permits covering all this land. They are for:
111,000 square feet in retail businesses in 11 single-story buildings with 483 surface parking stalls
92,417 square feet in a 4-story medical office building with first floor retail, with 394 parking stalls, most of them surface parking
105,000 square feet 4-story (one below-grade) self-storage facility with 34 parking stalls located on the street, as on-site surface and structured parking internal to the building
On Wednesday morning, the morning of the Special Meeting, the Development Commission received a letter from IHIF-C objecting to jurisdiction making a "motion to stay" the proceedings. There were several options for how the Commission might handle the letter. After more than an hour of discussions, the Development Commission decided to proceed with the agenda as presented. They proposed to continue the discussion about the "motion to stay" at their next meeting's agenda
Moving on to the agenda, the city's attorney began questioning the City of Issaquah Development Services Director, Keith Niven about the history of the property and the IHIF-Cs involvement with it. The meeting ended at 9:30pm without finishing Mr. Niven's testimony.
The public hearing continues to future Development Commission meetings, the next time being Wednesday, October 24 at 7pm in Council Chambers at 135 E. Sunset, Issaquah.
If you would like to watch a video of the meeting, you can access it here > >
For more information Issaquah Highlands published about this land and Shelter Holdings' proposals, please see Development in Issaquah Highlands. Scroll down to The High Street Collection.