Every month we publish a photo of something (or somewhere!) in the Highlands. Some months are easier than others, but all photos will be of something accessible to the public. It is up to you to guess where the photo was taken!
Last month's photo was of the metal flowers sculpture near the fire station on Park Drive. "Miracle Grow" was created by artist Leon White, and was inspired by his own garden. White is a regional, national, and international award-winning artist in painting and sculpture. He works in painting, stone, ceramic, bronze, mix medium and large public sculptures.
White's work "Miracle Grow" was part of a loaned art program in Issaquah in 2005, which borrowed public art from local and regional artists and displayed the pieces in various locations for one year. Residents' positive reaction to this installation prompted the City to buy it for $20,013. (ref: Seattle Times, February 13, 2006)
Correct guesses were submitted by:
David Roy
Joel Roy
Kuldip Singh
Lynne Trowern
Janani Vaidyanathan
Sarah Venzon
Nicole Pond
Priya Subramanian
Thanks to everyone who participated!
This month's photo is below. Can you identify the location in this picture?
Responses will be accepted until August 10th.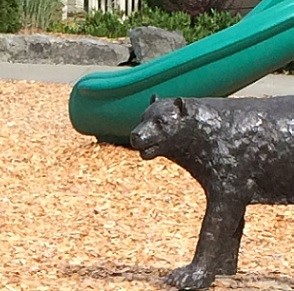 If you think you have the answer, please email it to IHPhotoHunt@gmail.com  along with your full name. Please be as specific as possible when emailing your response. Those with the correct answer will see their name published in next month's issue of Connections, as well as have their name entered into a drawing for a $25 gift certificate to Café Ladro. The drawing will happen once a year in December. Everyone who responds with a correct guess will be entered to win. Every correct guess is another entry – so you can enter 12 times a year.