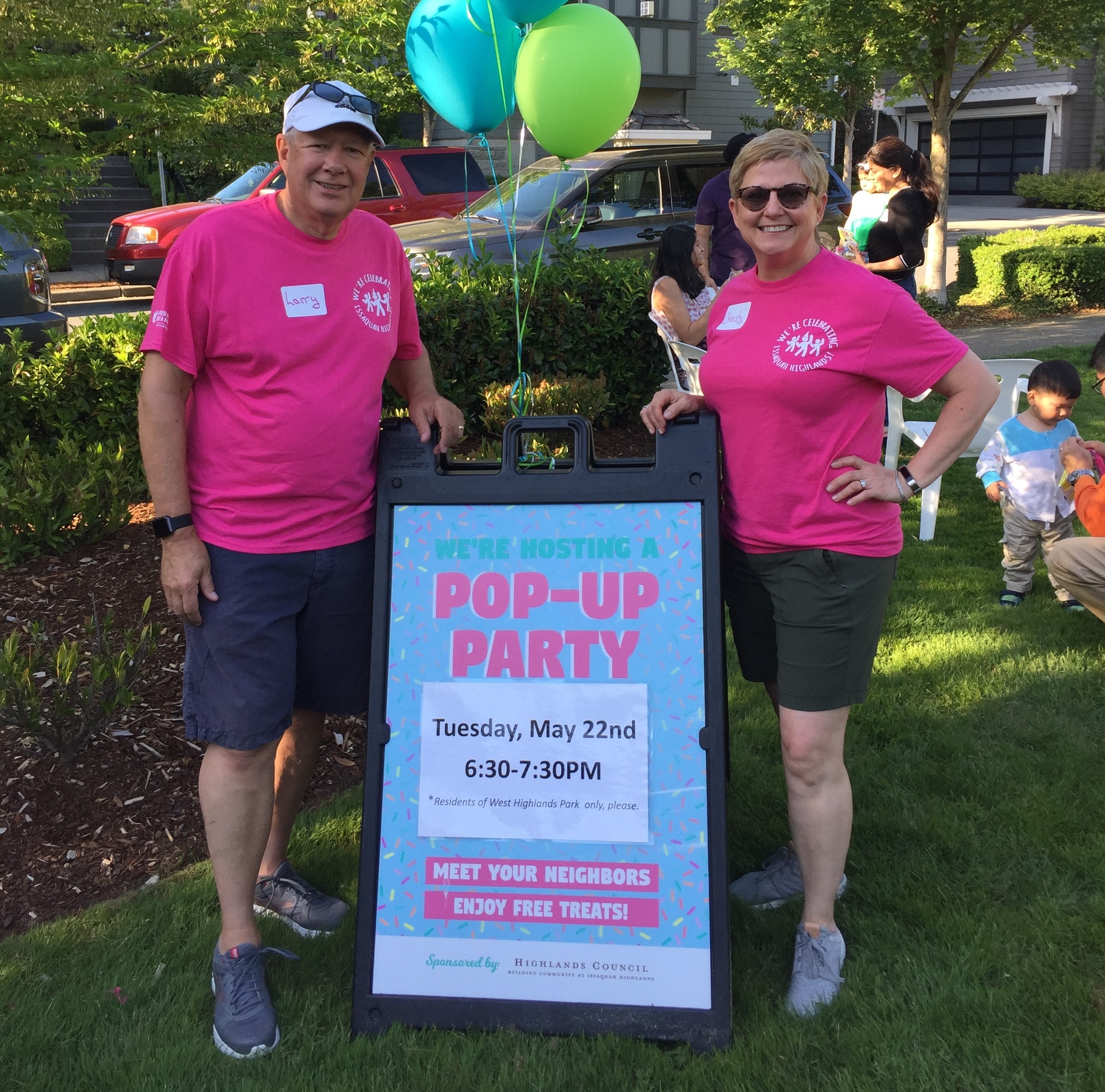 How We Engaged Community in 2018
By: Christy Garrard, Executive Director for Highlands Council and Dahlia Park Resident
Highlands Council serves as a facilitator of our resident-initiated and resident-led community building efforts. Together we support the integration of community groups and existing services with local businesses and organizations to create enriching programming and informative communications for the stakeholders in Issaquah Highlands. This collaborative work defines participatory culture; creating our own eco-system of living locally in our urban village.
Connecting Neighbors to Neighbors
In 2018 the community-wide survey results told us you wish you knew your neighbors better, and that you desired more adults-only programming. For that, Highlands Council created a new position, Community Program Manager. Lindsey Pinkston now manages community groups and with help of community volunteers and our staff. She has already brought residents together and many new, super-fun events in 2018.
Neighbors to Neighbors by the Numbers
7 Neighborhood pop-up parties
2 Bingo Nights 21+
16 Telecommute Tuesdays
1 Mimosa Morning
24 Community groups
140 Garden patches
85 Gatherings for kids
83 Gatherings for adults
4,000+ attended Highlands Day
Diversity and Inclusion
Many surveyed in 2018 said they did not always feel included. This struck a chord with us at Highlands Council since our mission clearly directs us to "foster the development of a vibrant and caring community committed to service, diversity, and well-being." In 2018 we provided new tools and experiences to encourage connecting with an inclusive spirit of valuing diversity. The community calendar is fuller than ever, including an increased number of community-wide events.
Connections Issues:
Culturally Inclusive Events by the Numbers
18 Cultural events
4 Cultural art exhibitions
10 Countries covered by Travel Club
6 Meaningful Movie topics
Communications
According to the survey, some of you had trouble quickly finding the information you needed online. Therefore, we improved IssaquahHighlands.com by making the homepage easier to navigate and by making IHCA homeowner documents searchable. We also created BlakelyHall.com, a website dedicated to Blakely Hall as a venue for private events. We updated the look of Connections, now photo-driven with many ways to enjoy content. We refined our Facebook strategy and added video to the offerings.
By the Numbers
5,000 Connections News monthly circulation
52 E-letters sent
5,300+ Facebook followers
516 Facebook posts
86,000+ Unique website visitors
200,000+ Website page views
72 News blog posts
Community Safety
Those surveyed expressed concerns about traffic and pedestrian safety, which substantiated ongoing concerns. Highlands Council partnered with the Issaquah Highlands Community Association (IHCA) and the City of Issaquah to launch the SLOW DOWN, Drive Like You Live Here campaign. This year-long initiative encouraged us all to Drive with Care and Walk Aware. We employed all our media channels, hosted community events, and worked in small teams to improve pedestrian safety in Issaquah Highlands.
January launched: Drive with Care, Walk Aware
8 Columns on traffic safety
Community pledge to Drive with Care and Walk Aware
2 Community-wide meetings
14 Mobile safety-message a-boards
12 Light Pole Banners
6 Park Drive crosswalk flag stations
30 Park Drive crosswalk messages on sidewalks
6+ City infrastructure improvements (i.e. new zipper merge on Park Drive)
Issaquah Police Department Paws on Patrol training at Blakely Hall
Yogurt with a Cop at TCBY/Mrs Fields
Land Development News
The community news you care most about is land development. Nina Milligan, our Communications and Government Affairs Manager for Highlands Council, works throughout the year to follow development news and report it to you. Search for "Development in Issaquah Highlands" on IssaquahHighlands.com. Besides news stories throughout the year, we put it all together in every February issue of Connections, our annual Development Update issue.
Tracking Land Development by the Numbers
20 Public meetings attended re: Land Development in Issaquah Highlands
Including
7 City meetings on IH development
4 School board and city meetings on school site consideration
4 City meetings High Street conversion to a park
4 Shelter Holdings and City of Issaquah zoning dispute hearings
1 Bike Skills Park at Central Park community meeting
Published 12 land development online news stories and social media posts
Published map-driven land development webpage covering all buildable land in IH
Attended 3 Ribbon cuttings in IH
---
Highlands Council is already in program collaboration for 2019, to learn more see January 2019 Connections, page 10.
Your voice in community matters. Be sure to take the 2019 Survey and help guide the focus for year ahead.
Don't miss next month's Land Development Update issue of Connections.