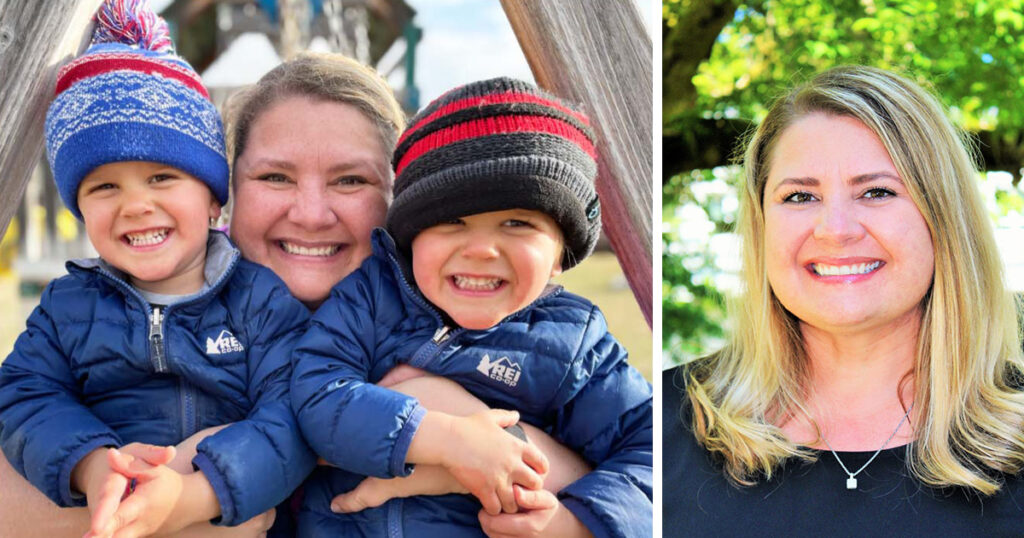 When did you move to Issaquah Highlands, and from where? 
In June 2020, I sold my home in West Seattle and purchased a condo in Starpoint to be closer to my family and live in a community.
Why did you choose to live in Issaquah Highlands?
I have visited Issaquah Highlands since 2004 when my sister and her husband purchased a townhome near Kirk Park. I have spent time at the neighborhood parks, attended events, and visited many shops and restaurants in Issaquah Highlands over the past 15 years. As soon as I moved here, I felt like I belonged; I am happy to live in a place that takes pride in its infrastructure, values, and people.
Tell us about your family.
I am the oldest of five siblings, with whom I am very close. I have six nephews and one niece who I love spending time within Issaquah Highlands, Cashmere, and Bozeman, Mont.  I also enjoy spoiling them rotten, especially with toys that light up and make lots of noise (sorry, siblings/parents).  I also have a new kitty, Princess Fiona Buttercup Caramel Sauce, or "Fi" for short. She is so sweet and so feisty at the same time.
How did you become involved as a volunteer in Issaquah Highlands?
After almost a year of living here, I saw the announcement for the Issaquah Highlands Community Association (IHCA) Board of Directors election; I thought running for a board position would be a good way to give back to the community. I love the sense of pride residents have, and I think I can be a voice for those who do not have time to be fully involved in continuing to make Issaquah Highlands a great place to live.
I am only four months into my role as an IHCA board member, so I am still learning about what the IHCA does and how we work with the city of Issaquah and other community organizations. I look forward to many more opportunities to invest in our community.
As part of your board role, tell us about volunteering on the IHCA Finance Committee.
My favorite saying is, "I don't math," so I never thought I would volunteer on a finance committee, but what better way to learn than to jump in, feet first. I look forward to learning how the money comes in and goes out to support the many facets of Issaquah Highlands.
What do you hope for the board in the future? 
I think the IHCA is in a good place to keep planning for the future. With dedicated and tenured staff, the IHCA continues to maintain an excellent quality of life for Issaquah Highlands residents. I look forward to strategic planning, discussing new and improved amenities for the community, and formulating what Issaquah Highlands can be in the future. I would be remiss if I did not put in a plug for the mountain bike park my nephews want, more pickleball courts for the dads, an outdoor swimming pool, kids splash pad – the list goes on and on.
I feel very lucky to live in a place where the values include building community, being healthy, respecting differences, and celebrating successes.
Photo (top-left): Ali with two of her nephews. Photos provided by Ali Spietz.
Ali Spietz is member of the IHCA Board of Directors and a Starpoint resident.
Are you inspired to get involved in the Issaquah Highlands community?
Opportunities are available!
Click here to discover all the different ways you can get involved in our Issaquah Highlands community, including opportunities to join boards and committees, as well as urgent needs at local nonprofits.
Questions? Contact Lindsey Pinkston, Highlands Council Program Manager.