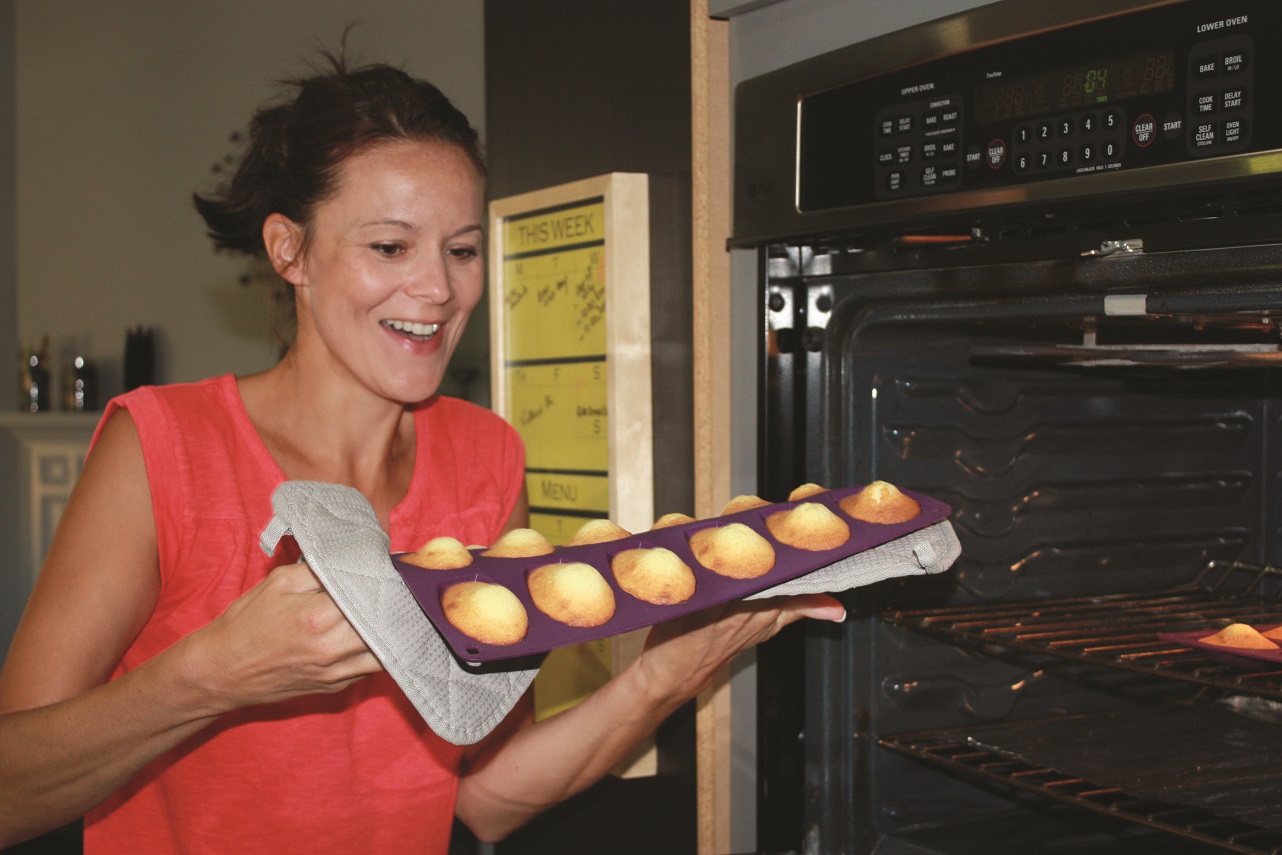 Aline Bloch takes fresh-baked Madeleines from her oven at home in the Highlands.
By Kimberly Collette, Central Park
Seven years ago a job transfer moved Aline and Olivier Bloch from their home in France to Issaquah Highlands.
French cooking is one of the ways the Blochs stay connected to their heritage. Every Sunday, Aline makes crepes. In the fall she makes Ratatouille with all the seasonal vegetables. December is all about the Buche de Noel with a chocolate buttercream swirled on top to resemble a log and sweet fresh whipped cream in the middle. Christmas morning Aline will spend hours making chocolate croissants for breakfast.
Breakfast is always sweet. It could be toast and jam, cereal, homemade brioche or fruit. Lunch is vegetables and meats with a bit of dairy and more fruit. Each night the Blochs sit down together for family dinner. After the main course of meats and vegetables the cheese course is served with bread. Aline likes the bake-at-home French baguettes from Fred Meyer. And then dessert. "I cannot leave the table without the sweet taste in my mouth," she said, Dessert is a chocolate mousse, yogurt or fruit.
Today Aline stands in her sunny kitchen about to make one of her children's favorites, Madeleines. She turns to her son, Rafael, who is passing through and asks what his favorite French dishes are. "Certainly not rabbit. Not snails. Not clams." He laughs. Aline says she is making Madeleines. Rafael jumps and yells, "Yummy!"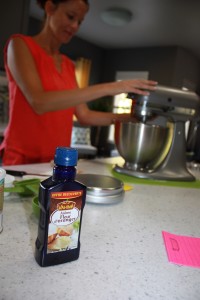 Aline gathers her ingredients. Rafael leaves to go play tennis. She weighs the flour, sugar and butter on a kitchen scale and cracks the eggs. As the eggs and sugar are mixing, Aline's oldest daughter, Erinn, comes in and says she is going for a bike ride. She peeks over her mom's shoulder to see what's mixing and smiles as she walks out, putting on her helmet.
Aline adds the remaining ingredients, including her secret ingredient, the orange blossom extract her mother brings when she visits. It smells flowery and light. The batter is finished mixing and she puts it in the fridge to chill while the oven heats up. This will help create the perfect little bump on top of the cookie.
The cookies bake for a quick seven minutes. The sweet buttery smell fills the kitchen. Rafael has come home from playing tennis. Erinn is coming back through the door, and Zoe, Aline's youngest, has come downstairs. No one wants to miss the Madeleines.
Aline plates the cookies and dusts them with powder sugar. The kids reach for them while they are still warm. They gather together enjoying one of their favorite traditions filled with the scents and tastes of their beloved France.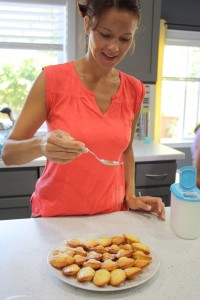 Les Madeleines
The madeleine or petite madeleine is a traditional small cake from Commercy and Liverdun, two communes of the Lorraine region in northeastern France, where they have made Madeleines since the 18th century.
Recipe
3 eggs
2/3 cup white sugar
1 cup flour all-purpose
1 pinch salt
½ cup melted butter
1 tablespoon of pure lemon extract (or vanilla)
1 tablespoon of baking powder
2 tablespoons of Honey (optional)
In a medium bowl, beat eggs and sugar (and honey) until light and fluffy. Stir in the flour, salt, melted butter, baking powder and lemon extract (or vanilla). Set aside.
Preheat oven to 425° F. Butter madeleine molds.
Spoon into molds two –third full.
Bake for 5-10 min or until cakes are golden.