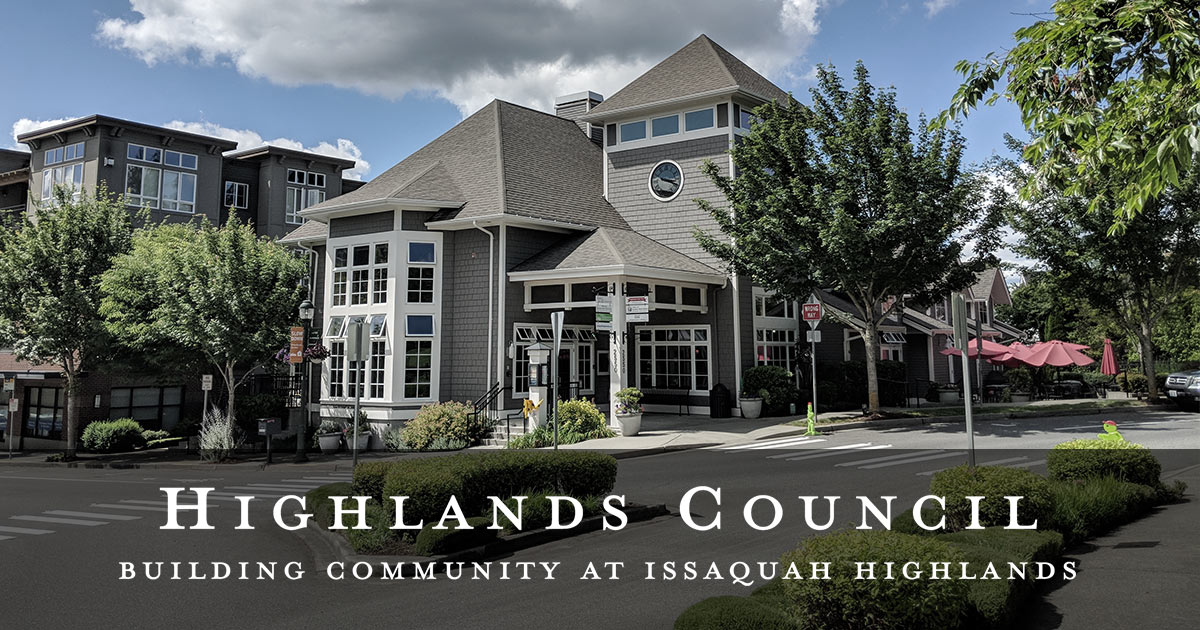 Highlands Council is a community-building nonprofit that brings you official communications and fun community engagement opportunities in Issaquah Highlands. Highlands Council owns and operates our Blakely Hall community center and publishes Connections. A board of trustees guides the work of Highlands Council. Trustees are appointed representatives from all facets of community life, including homeowners, multi-family, and commercial.
I am pleased to share Zach Hall was elected vice president of the Highlands Council Board of Trustees in October. Zach was appointed to the board in July 2020 and also serves on the Issaquah Highlands branding committee. Zach is a City Council member and the legislative assistant for state representative (and Issaquah Highlands resident) Lisa Callan. Highlands Council is fortunate to have Zach bring his broad knowledge of local governing affairs to our community leadership. Zach lives in the Vista Park neighborhood.
The Highlands Council Board of Trustees appointed Dr. Michele Arnold to the board on Nov. 2. Michele replaces the commercial stakeholder seat formerly held Chris Beaudoin, chief executive at Swedish Issaquah, whose recent increased responsibilities require him to transition his seat. Michele is the Chief Medical Officer at Swedish Issaquah and lives on 24th Avenue Northeast in the Central Park neighborhood.
Meet Dr. Michele Arnold, Swedish Issaquah Chief Medical Officer, Issaquah Highlands Resident, and Newest Highlands Council Trustee
Our family moved to Issaquah after spending 10 years in small-town Nebraska and 20 years in Texas. You may think me crazy, but our family felt a calling to move to the Pacific Northwest. Whether by coincidence or providence, our family arrived at our first Issaquah Highlands home on 29th Place Northeast .  Days ahead of the moving van, we left our still-empty house to celebrate at the Downhome Fourth of July event in Olde Town; my two kids were 10 and 6 at the time. As we cheered on the frontrunner in the annual slug race and voted on a slug beauty queen, I knew this community was the right fit for us.
Issaquah is perfectly nestled at the edge of suburb and city, and only a hop away from wild backcountry. I am enchanted by the fog and mist that frost and interweave Tiger, Squak, and Cougar mountains; the stillness of our Grand Ridge trails; and the chorus of frogs rising like a lullaby above South Pond in the summer. It is a wonder I have not crashed my car as I ogle at all the known Mount Rainier viewpoints.
To me, "community" is a feeling of belonging, fostered by a culture of inclusivity; supporting and celebrating one another, and coming together for shared traditions.
"Community" is:
The symphony of cheers emanating from Central Park on Saturdays.
A smile, head nod, or wave to fellow drivers and pedestrians.
The quietly shared fellowship of a dark winter morning, with the rhythmic sound of snow shovels and breaths in the cold air.
Watching sunsets from the many neighborhood perches or hoping to catch a glimpse of meteors or the Northern Lights from Grand View Park.
Bleary-eyed mornings in the Starbucks drive-thru, the joy of a double-scoop in summer, or stopping for a spell in the Adirondack chairs outside Caffe Ladro.
Shared goals and shared pain running or biking up College or Park Drives or ascending the steps behind Dick's.
Inspirational sidewalk chalk directing kids to and from Grand Ridge Elementary every September and June.
The warm glow of holiday lights at Village Green, along Park Drive Northeast, and throughout Grand Ridge Plaza.
The glee of a snow day filled with sledding and play.
Greeting fellow walkers, runners, and cyclists as we cross paths.
The menagerie of costumes for an eagerly anticipated movie premiere at Regal.
Taking way too much time at Safeway because we're catching up with a neighbor.
The scent of breakfast or clean laundry emanating from homes on my morning walk or run.
Cheering on our favorite teams together, whether from the sidelines or the pub.
While I might have talked a bit too much about our community and probably not enough about myself, I hope my passion and love for our community resonates with you. We have a shared commitment to care for and preserve our neighborhood for ourselves and one another, and I am proud to come alongside each of you in this vision.
— Michele Arnold
Dr. Michele Arnold is now a proud resident of 24th Avenue Northeast, where she lives with her husband of 25 years, Jon, and children Brielle (age 19) and Jaden (age 15). Michele is the chief medical officer at Swedish Issaquah, one of three executive leaders accountable for sustainability, safety, quality, and experience at the Issaquah campus.
Christy Garrard is the Highlands Council executive director and a Dahlia Park resident.