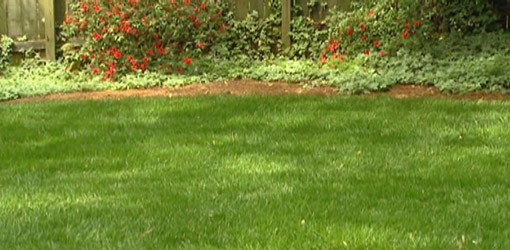 Fall Landscape Maintenance to Ensure a Beautiful Lawn in the Spring
By Collene Cordova, IHCA Owner Services Coordinator-Compliance
Thankfully, mother nature was on our side this year and we did not experience the high temperatures and draught conditions of last summer. Even though the weather was not a factor, lawns often need to be reseeded to maintain a healthy lawn. Fall is an excellent time to prepare your lawn so that you will be rewarded with a lush green lawn in the spring and hopefully one that doesn't require too much work next year.
Fall is the best time to begin a lawn repair. This consists of removing the dead grass and or moss with a metal rake, aerating the soil to allow for nutrients to reach the roots, spreading a 3-4-inch layer of top soil or peat moss, sprinkle with grass seed, and watering frequently (do not saturate) until the sprouts begin to emerge.  In less than a month, you will have a healthy new lawn. Depending on the location and amount of sun your lawn receives, you may have found it very difficult to maintain your lawn. In this case, an alternative type of landscaping may be a good option for you. If you would like to replace your grass area with an alternative type of landscape, please visit our website at www.issaquahhighlands.com click on Architectural Guidelines Forms & Applications, then click on Guideline for Small Landscape Projects. View the options and contact Erika North at Erika.n@ihcommunity.org with your questions.
If your lawn is not in need of repair, the fall (mid November) is also an excellent time to apply fertilizer. Organic or fertilizers marked as "synthetic slow-release" or "controlled release" are recommended in the Water Wise Living in Issaquah Highlands document that can also be found on our website. Fertilizing encourages a strong root system so that you have steady top growth in the spring. Remember to rake up and dispose of any leaves on your lawn prior to applying fertilizer. If you have a mower with a mulching system, this also works well and is good for the health of your lawn.
The fall is also a good time to trim your coniferous plants or evergreen shrubs. If you have flowering shrubs that have not started to bud, now is a good time to give them a good trimming.  Shrubs that are never trimmed tend to grow too tall and spindly and will eventually need to be removed. Over time you will see more branches and less foliage. If you have shrubs that already have flower buds in the fall, wait until the late spring to trim those, after they have bloomed.
In the past we have held landscaping seminars to help answer questions and offer suggestions to homeowners that are new to lawn maintenance.  We currently do not have any seminar dates planned, but if you would like a copy of previous power points on lawn maintenance, please send me an email at Collene.c@ihcommunity.org and I will forward them to you.