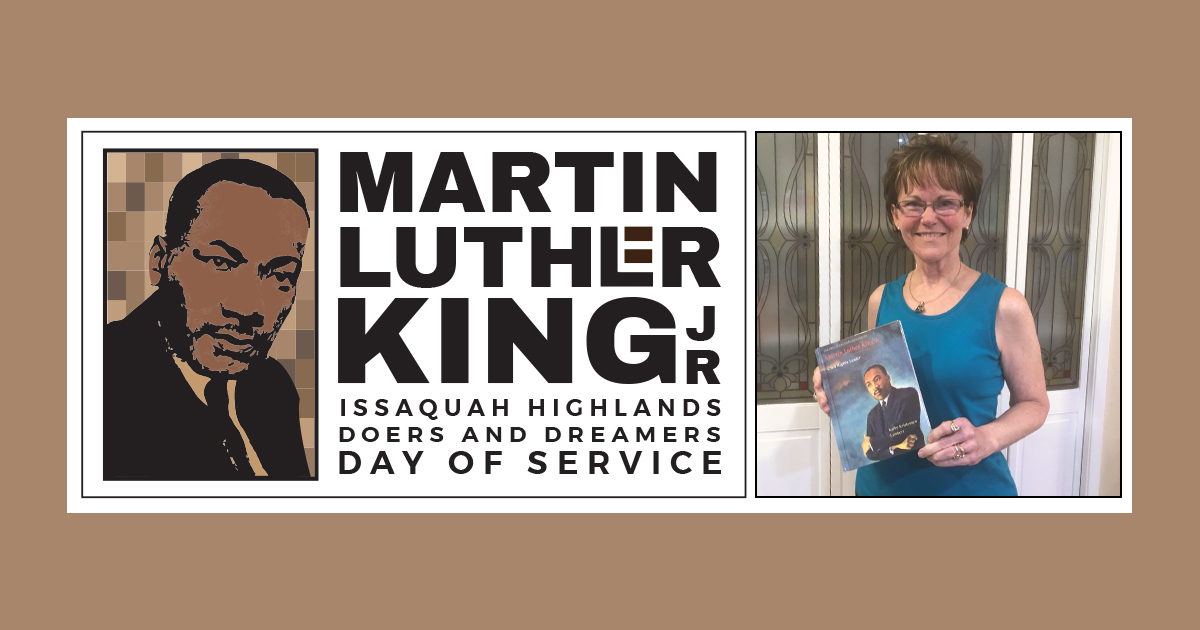 King County Councilmember Kathy Lambert represents Issaquah Highlands as part of District 3. She is a former teacher and authored a children's book about the life of Rev. Dr. Martin Luther King Jr. While the book is out of print, I was able to track down five copies for her to sign before donating them to the community. On January 18, these signed biographies will be added to four of our Little Free Libraries and to our Blakely Hall cultural library for all to enjoy. Thank you, Kathy, for your contribution to our history and community.
– Kimberly Kapustein, President, Highlands Council Board of Trustees, and Issaquah Highlands resident
From Kathy Lambert, King County Councilmember and author:
Rev. Dr. Martin Luther King Jr. was in the news as I grew up. He was a friendly man with courage and conviction and faith. Those are qualities I admire.
When I was a schoolteacher, the state dedicated his birthday as a holiday, and teachers were told to add information about Dr. King's life to our curriculum. I searched and searched; there was not a lot of information at the elementary level and what was there did not showcase his personality and values.
I had always wanted to write a book but never got beyond writing down ideas. I talked to my friend's publisher about writing a children's book on Dr. King. It took me about nine months to write the book, then after editing, proofing, and binding, I eventually got a box in the mail with 10 copies of the book, titled "Martin Luther King, Jr.: Civil Rights Leader," with my name on the cover. I could call myself an author. It was very exciting.
I donated a set of books to my school library and taught from the book to my fifth-grade students. My students could not believe I wrote the book and our class had a long talk about how people can have many different talents you might not know about; that is part of the fun of getting to know someone better.
One of my favorite quotes from Dr. King is, "All labor that uplifts humanity has dignity and importance and should be undertaken with painstaking excellence."
His words are so true; taking pride in and doing our best in all we do is so important. This year think about how you can do your best in recognizing and helping the needs in your own community. It will be worth it.
Photo: King County Councilmember Kathy Lambert, pictured with her book on Dr. King. Photo by Kathy Lambert. Please join us for the first Issaquah Highlands Doers and Dreamers Day of Service, inspired by Rev. Dr. Martin Luther King Jr., on January 18. Get more information on this new community initiative. 
As published in January 2021 Connections >>