Culture through Cuisine – Peru
By Kimberly Collette, Central Park
Amiel Cook and his wife Melynda have lived in the Highlands for 13 years. Three homes and four kids later they gather in their kitchen on a Sunday afternoon to prepare dishes passed down from Amiel's mother, Dora.
Grandma Dora, as the Cook's children call her, left her home in Lima, Peru as a young woman in search of the "American Dream". She worked as a maid in a hotel and a hospital in Salt Lake City, Utah. She pursued her education at a local community college and met Amiel's father. She was learning English; He was studying Spanish. They fell in love and married in Idaho.
Amiel's family moved around. His father pursued his education at the University of Georgia. They lived in Utah, all over the East Coast and then landed back in Provo, Utah where the Cook's raised their six children.
Dora was a staple in her children's school, says Amiel. "She was always volunteering. Eventually they just gave her a job in the library."
Amiel learned the value of an education from his mom. All six of Dora's children are college graduates.
Now, as a grandma in her 70's she is still working in education. She and her husband moved back to Georgia as empty nesters. Dora works with new immigrants helping to get their children in the school system.
"She works hard and is always moving," says Amiel. That is something else Amiel gets from his mother. He says he's always picking up the house, always moving. Often following behind Melynda in the kitchen as she cooks. Picking up as his goes, even if Melynda isn't quite done with the ingredient.
Each night Dora would serve a big dinner for her family which would always include some Peruvian favorites. Peruvian food is not very spicy. Picarones were a staple.
Picarones are a yeast bread, and a bit like a scone. They are sweet and served at dinner, not dessert. Dessert is usually melons or fruit.
Aubrey, the Cook's 11 year old daughter, loves her grandma's Picarones. She learned to make them and served them at her school for a Thanksgiving celebration. Today she helps by mashing the cooked squash and yams.
Cooking in the kitchen this afternoon is a family affair. Ella, 8, mashes the russet potatoes that will be used in another family favorite, Papas Rellenas.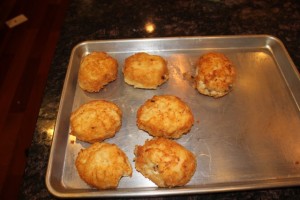 Papas Rellenas are a fried mashed potato ball that has been filled with ground meat, egg and olives.
Even Ben, the two year old, helps as best he can by peeling potatoes. Lauren, 6, helps stir the meats cooking on the stove with Amiel. Melynda watches over the Picarones coming together in the mixer.
This Peruvian Sunday feast comes together with the help of each one of the Cooks. It is a credit to their Grandma Dora. Although she is not there, her legacy of hard work, warm food and family permeate through the Cook's kitchen.

Picarones and Syrup

¾ cup yams
¾ cup butternut squash
½ cup water
1 egg
3 cups flour
1 package yeast
1-2 cups canola oil
Instructions:
Cut yams and butternut squash into small cubes and mix together into a cooking pot. Submerge in water and boil over a stove until soft.
Place yams and squash in a mixing bowl along with ½ cup of water from the cooking pot and mash (or blend in a blender). Let it cool to at least 110 degrees, then add the egg, yeast, and flour. Mix together into a dough and then let it rise.
Place canola oil in a frying pan and heat on the stove until warm. Take a small ball of dough, make a doughnut hole, and place in the frying pan. Cook on one side until brown, then flip. Serve hot.
Syrup Ingredients:
½ cup water
1 cup brown sugar
1 tsp maple extract
Instructions:
Mix water, brown sugar, and maple extract in a cooking pot and boil over a stove. Pour syrup on picarones and enjoy.