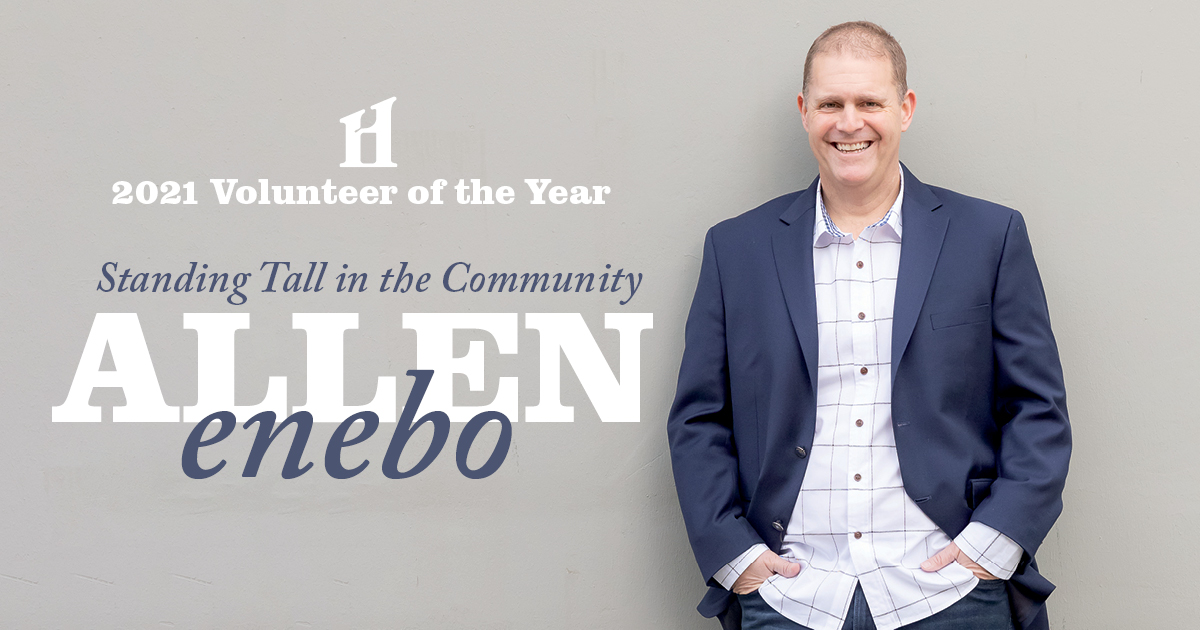 Standing Tall in the Community
I'm happy to announce Allen Enebo as Issaquah Highlands' 2021 Volunteer of the Year. Allen serves as the treasurer of the Highlands Fiber Network (HFN) Board of Directors and vice president and secretary of the new Issaquah Highlands Community Fund (IHCF) Board of Directors. I am so thankful for Allen's tireless work for this community; I feel his positivity, leadership, and energy in every interaction I have with him.
Since moving to Issaquah Highlands from the Klahanie area in 2006, Allen has found numerous ways to benefit our community with his seemingly endless passion and energy. Early on, Allen understood the vision of what this community could be. He was drawn to the idea of a walkable grade-school neighborhood and has raised three daughters in the Ashland Park neighborhood.
Allen first volunteered in our community as a division representative then joined the HFN board. In 2013, when the community first evaluated the option to acquire HFN from master developer Port Blakely, Allen thankfully jumped in to assist with the feasibility study, serving on the committee that ultimately decided to make HFN fully community-owned.
"I love being involved and protecting a huge community asset," Allen wrote in his June 2021 "Volunteer of the Month" profile.
Although Allen's day job typically comes with a busy and hectic travel schedule, he always finds the time to participate in our virtual meetings from wherever he finds himself that week, be it boarding a flight, checking into a hotel, etc. That changed when the pandemic grounded Allen's work travel for a period. Not one to waste an opportunity, Allen jumped in with both feet when approached to serve on the Issaquah Highlands Branding Committee and the IHCF board; his energy and passion have been felt by all who have the opportunity to serve with him.
Allen sees a great future ahead for HFN as we continue to enhance bandwidth offerings to the community and review new technologies that will benefit the community going forward. It's easy to see how much Allen values HFN and our community through his tireless work and willingness to serve. We hope Allen's dedication inspires others to get involved and give back to this wonderful community.
Jeremy Fallt is the HFN general manager, and a Central Park resident. As published in Winter 2022 Connections.
What They're Saying About "Mr. Fun"
"Allen brings passion and energy to everything he does and is always eager to volunteer whenever a new need arises. I am extremely thankful to Allen for all he has done this past year, especially for his efforts in representing HFN on both the branding committee and the new Issaquah Highlands Community Fund Board of Directors."
CHARLIE HERB
HFN board president, and Pine Crest resident
"Allen definitely has this electric presence about him, there's no denying that. I've loved working with him on the branding committee. Very often, he's able to pull something new from an old conversation and he's not shy about sharing a different opinion. People like this make decision-making so much more inclusive! What a great selection for Volunteer of the Year!"
ZACH HALL
Issaquah City Council deputy council president, Highlands Council board vice president, and Vista Park resident
"No matter how long a day has been, if you jump onto a call where Allen is in attendance, the day gets better!"
CHRISTY GARRARD
Highlands Council executive director, IHCF president & chair, and Dahlia Park resident
To Allen: "You make it look effortless, but I know it wasn't. Well done on everything. I hope you are happy with the work you have done and recognize your accomplishment. This year took persistence, commitment, and an immense amount of talent (and maybe some laughter). Congratulations on being an invaluable Issaquah Highlands volunteer."
KIMBERLY KAPUSTEIN
Highlands Council board president, IHCF board member, and Dahlia Park resident
"Allen's nickname, 'Mr. Fun' is well-deserved. Whether it's on one of the many committees he has served on, out in the community, or just helping a neighbor, Allen always brings a positive attitude, a big smile, and really thoughtful ideas. It seems like he is always up and always on, making things happen, moving things forward, and doing good. Congrats to Allen on being the 2021 Issaquah Highlands Volunteer of the Year!"
PATRICK BYERS
Former Highlands Council board vice president, and Ashland Park resident
"Allen has been an invaluable member of the HFN board."
TIM UNDERWOOD
HFN board secretary, and Magnolia Park resident
"Allen Enebo has given greatly of his time, talent, and treasure to make the Issaquah Highlands a wonderful place for not just his family, but all families."
LYNNE VARNER
IHCF board member, and Magnolia Park resident
"[In 2013,] I was putting together a small group of residents to negotiate with Port Blakely for the purchase of Highlands Fiber Network. I needed one more volunteer, and I ran into Allen at Costco. I pitched the idea, twisted his arm, and the rest is history. Sometimes you're surprised at what you can find at Costco. This honor of Volunteer of the Year is well deserved."
LARRY NORTON
HFN board vice president, Highlands Council emeritus trustee, and Crofton Springs resident
"Our children have grown up together in the Highlands and I'm fortunate to call Allen a friend. Not only do I admire Allen as a parent, but also as a community leader. His service to the community sets a high bar! Issaquah Highlands is so fortunate to have Allen involved on so many levels. Thanks for making time in your busy schedule, Mr. Fun!"
TERESA COWAN
IHCF board member, and Central Park resident
Inspired to get involved in our community?
Getting more involved in our community is a fun and easy way to meet people and contribute to the participatory culture of Issaquah Highlands. From community boards and committees to community groups and events, volunteer opportunities are always available.